Brusch Jochen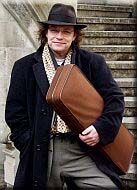 Composer
Brusch Jochen
Description
Jochen Brusch studied the violin at the conservatoires of Duisburg, Essen and Hannover (Germany). He is also a graduate from Royal College of Music, London. Between 1980 and 1986 he was violinist in the Herning Stadstrio, a piano trio based in Jütland (Denmark). After a period as concertmaster of the Essen Philharmonic Orchestra, Brusch came to South Germany. Here the university town of Tübingen became the centre of his teaching and also the starting point of his concert tours. Comprising approximately one hundred concerts every year, a large number of these take place in the Scandinavian region.
Apart from numerous German towns, his concerts have taken him to Denmark, Norway, Sweden, Holland, Belgium, France, Spain, Austria, Polen, Bulgaria, Italy, Switzerland and several times the USA.
In 1992 he gave an eight-part series of concerts entitled "The Violin And Its Masters" for the University of Tübingen. He often performs the complete cycle of works for solo violin by Johann Sebastian Bach (3 Sonatas and 3 Partitas). Brusch is dedicated to the repertoire of the Romantic period, for which he has particular fondness. Over the years he has performed and recorded many previously forgotten and neglected works, including premiere recordings of works by Ch. Gounod, J. Massenet, F. Henriques to name but a few.
Several of his concerts are arrangements in "word and music", such as the cycle entitled "Portraits of Jewish Vionists" featuring J. Joachim, H. Wieniawski, E. Ysaye and F. Kreisler in four separate concerts. In these he "pricks up the ears" of his audience by providing a close insight into the music's historical background.
Jochen Brusch has also commissioned and recorded new works such as the Fantasy and the Metamorphoses for violin and organ by the late Wolf von Siebenthal. For a number of years Jochen Brusch has served as Artistic Director of the "Autumn Concerts Jungingen" and he was also leader of the chamber music classes in Kloster Kirchberg.
Brusch has given numerous lectures, courses and classes at various institutions, such as the National Palace of Culture in Sofia (Bulgaria), the Scatola Armoniosa in Perugia (Italy) and a number of universities in the USA (City University of New York, Fulltertion University in Los Angeles, State University of Arizona in Phoenix) as well as in many other institutions.
In addition to television and radio appearances Brusch has published a significant number of CDs featuring over 100 different works. Some of his compositions and transcriptions have been published by renowned music-publishers.
He performs on a violin by Peter Greiner of Bonn. It is a copy of the legendary Guarnerius del Gésu, once played by Nicolo Paganini.
www,jochenbrush.com
Works