Krogseth Gisle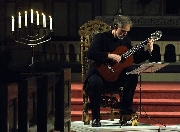 Composer
Krogseth Gisle
Description
birth on Mars 1952. Raised at Rørvik in the county of Nord-Trøndelag, Norway. During the years 1970 – 1979, he worked as a professional musician within areas such asdance music, folk music and rock & roll music. In 1982 he graduated from the North-Norwegian Academy of Music in Tromsø, and took his Phd (Cand. Philol) in musical science at the university of Oslo in 1986. In adition to this he has studied classical guitar with Karsten Andersen and Geir Otto Nilson in Norway, and Luis Zea and John Duarte in England. To this list should be added counterpoint with Nils Grinde and Mai Sønstevold, composition with Olav Anton Thommessen and Ragnar Søderlind, as well as musical drama and instrumentation with Antonio Bibalo. At the present time Krogseth works as a part- time assistant professor. The rest of the time he works as a freelance composer and guitarist in Norway.
As a composer, until 1995 he wrote mainly for solo instruments and voice, for small ensembles. During the last ten years, however, he has concentrated primarily on musical drama and music for and with the guitar. His activities include the following:
I 1991 he represented Norway at the World Festival in Halden, where he won a prize. His musical, "Hotel Olympus", proved to be very popular at Tromsø Festival Hall in the spring of 1992, and in 1994 he wrote a full cabaret for the 150th anniversary of the city of Sandefjord. After numerous tours with the "Rikskonsertene", concerts held by professionals touring the country, and a CD with the multi-media show, "Eventyret om Virkeligheten", in 1995 he was commissioned to write "Galder", a performance for choir, soloists and orchestra, based on an old Norse saga. "Bært! Brecht!" was composed by Krogseth for the 100th anniversary of the birth of the Germanwriter Bertolt Brecht in 1998. That same year he was commissioned by Stavanger Opera Choir to write the opera "Sigrid & Eindride", for choir, seven soloists and orchestra, performed in 2000 in a chamber vesion. In addition to this should be mentioned the orchestral work "Enigma", also produced by Krogseth. In January 2006, he gave lectures in Los Angeles at California State University, Los Angeles. He has just finished an opera based on"Floodtide of Fate", a novel by the Norwegian author: Olav Duun. Performed summer 2004. For the trime being, he is working om a project with the norwgian soprano Bodil Arnesen: a crossover-CD with his own music. He also performs with professional musicians, f. eks. Arild Andersen ( flute), Bodil Arnesen (soprano) and Roger Arve Vigulf (clarinet), as well as giving solo recitals, lectures and masterclasses, at home and abroad.
Languages: Norwegian, English, Russian, German and some Frensh.
Composer/Assistant Professor
Norwegian, male, e-mail:gisl-k@online.no, Vinkelveien 4, 3213 Sandefjord, Norway,
Works